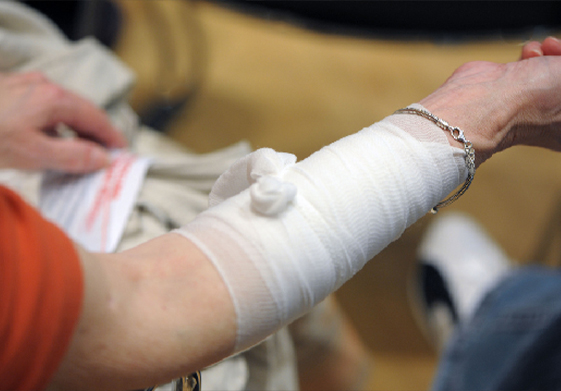 Course Overview (Benefits)
This course is for First Aiders to re-qualify prior to their certificate expiring. The aim of this course:
Improved safety culture and staff morale

Reduced risk of accidents and incidents

Reduced risk of claims and prosecutions
Course Content / Topics Covered
This course ensures that you comply with legislation and covers topics that teach skills that can be transferred to a real life situation, including:
Aims of First Aid- Dealing with an emergency

Priorities of treatment – CPR Adult

Bleeding/Shock – Blood loss theory, internal bleeding, recognition and treatment of shock
Unconscious Patient including recovery position and dealing with a patient who is in seizure (fitting)

Recognition and treatment of regurgitation
Wounds & Bleeding- Cross infection/treatment of bleeding and minor injuries

Recording Incidents and First Aid Actions
This course includes the use of an Automated External Defibrillator.
Assessment and Certification
You will be observed by the trainer alongside a written assessment. Upon completion of this course, you will receive an Emergency First Aid certificate; this will be valid for 3 years.
This course is made up of classroom based learning and a practical demonstration.
Suitable clothing for floor work should be worn as learners are required to complete a practical demonstration.
If you would like more information or wish to book onto this course, contact our team on 01925 222 455 or email enquiries@db-training.net
D&B Training Ltd offer course packages that save you time and money. Simply choose the training courses you require from our huge range and we will put a package together that covers all of your regulatory requirements. your new training package will be booked in to be as convenient as possible for you and your employees, also booking a block of training comes with heavy discounts!
Our staff are very knowledgeable and are able to provide you with the best training courses for your industry, so if your having trouble figuring out which courses you require, contact us on 01925 222 455 and book your training package today!