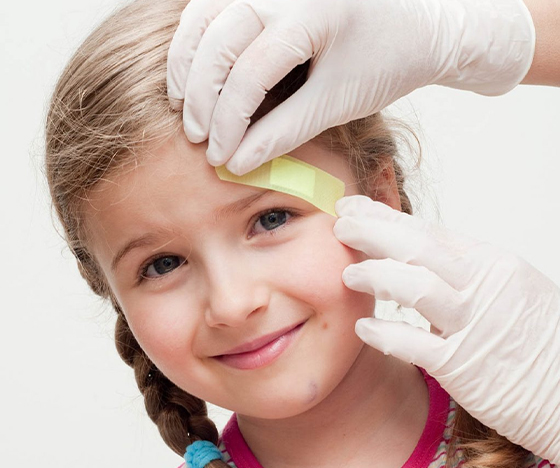 Course Overview (Benefits)
This course equips all attendees working within the childcare sector with a sound knowledge and understanding of adult, child and baby first aid procedures. All attendees will also be able to recognise childhood medical conditions and carry out the correct emergency treatment required until medical professionals arrive to assist. The course:
Follows the recommendations of EYFS and OFSTED

Improves safety culture and staff morale

Focuses on emergency scenarios that face professionals looking after young children and infants, including teachers, playgroup leaders, childcare providers, au pairs, nannies and child minders, these professions often have to prove they have a specific Paediatric First Aid qualification.
Course Content / Topics Covered
This course ensures that you comply with legislation and covers topics that teach skills that can be transferred to a real life situation, including:
CPR on children and babies

Allergies and Anaphylactic Shock
Fractures and dislocations

Secondary survey and recovery position
Epilepsy & febrile convulsions

Conditions of heat and cold
Employees working within the childcare/early year's sector
Assessment and Certification
You will be assessed by continuous observation by the trainer alongside a multiple choice theory assessment and a short practical assessment. Upon completion of this course, you will receive a Paediatric First Aid certificate; this will be valid for 3 years.
This course is made up of classroom based learning and a practical demonstration.
Suitable clothing for floor work is required as learners are expected to complete a practical demonstration.
If you would like more information or wish to book onto this course, contact our team on 01925 222 455 or email enquiries@db-training.net
D&B Training Ltd offer course packages that save you time and money. Simply choose the training courses you require from our huge range and we will put a package together that covers all of your regulatory requirements. your new training package will be booked in to be as convenient as possible for you and your employees, also booking a block of training comes with heavy discounts!
Our staff are very knowledgeable and are able to provide you with the best training courses for your industry, so if your having trouble figuring out which courses you require, contact us on 01925 222 455 and book your training package today!