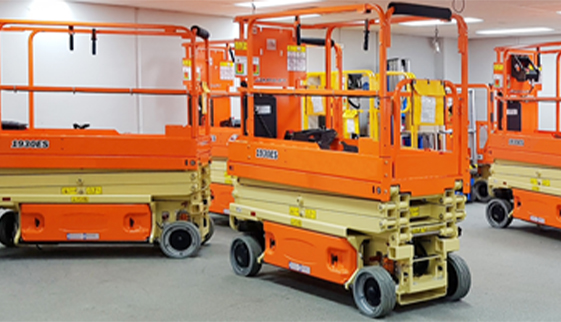 Course Overview (Benefits)
This course is delivered covering Scissor Lifts. This course gives successful delegate's knowledge of relevant Regulations, Codes of Practice and good safe working practices along with hands-on practical skills to enable them to safely use mobile powered access equipment. The aim of this course:
Delegates emerge as safer, more capable and confident operators

Reduced risk of accidents and incidents
Course Content / Topics Covered
This course ensures that delegates gain sufficient understanding of current legislation and learn skills which will ensure safe use of the vehicles. Topics covered include:
Pre-use Inspection / Handover

Safe operating methods and hazards
Practical Assessment (Pass/Fail)

License Renewal – Log Books

Course review and evaluation
This course is designed for those operatives who use mobile powered access equipment.
Assessment and Certification
You will complete a pass/fail theory test, practical training and a practical assessment throughout the duration of the course. Once you have passed the assessments, you will be issued with a completion certificate which is valid for 3 years.
This course is made up of classroom and practical based learning.
It is required that all candidates provide PPE helmets, safety footwear, hi vis vests/jacket, gloves and harness on the day. The practical part of the course can be taken inside and outside. *Please provide body harness and restraint lanyard if you have them with proof of thorough inspection. These will be provided to candidates who do not have them. It is also required that you are fit and healthy to complete the practical element of the course.
Since the safe use of Mobile Elevating Work Platforms (MEWPs) requires that you consult safety notices and read and thoroughly understand the manufacturer's instruction manual, literacy and language comprehension are important requirements for any MEWP user. Similarly, since the assembly and use of MEWPs can be physically demanding, users should be physically fit and in good health and should, generally, not have problems with eyesight or hearing, heart disease, high blood pressure, epilepsy, fear of heights / vertigo, giddiness with balance, impaired limb function, alcohol or drug dependence or psychiatric illness. If you have any problems with literacy or language comprehension, or have any doubts about your fitness to use the MEWPs, you MUST bring them to the attention of your employer. This will not preclude you from using MEWPs, provided your employer conducts an assessment and is able to put in place adequate measures to take account of any difficulties you may have.
If you would like more information or wish to book onto this course, contact our team on 01925 222 455 or email enquiries@db-training.net
D&B Training Ltd offer course packages that save you time and money. Simply choose the training courses you require from our huge range and we will put a package together that covers all of your regulatory requirements. your new training package will be booked in to be as convenient as possible for you and your employees, also booking a block of training comes with heavy discounts!
Our staff are very knowledgeable and are able to provide you with the best training courses for your industry, so if your having trouble figuring out which courses you require, contact us on 01925 222 455 and book your training package today!